How a Healthy Sales Pipeline Affects Enterprise Value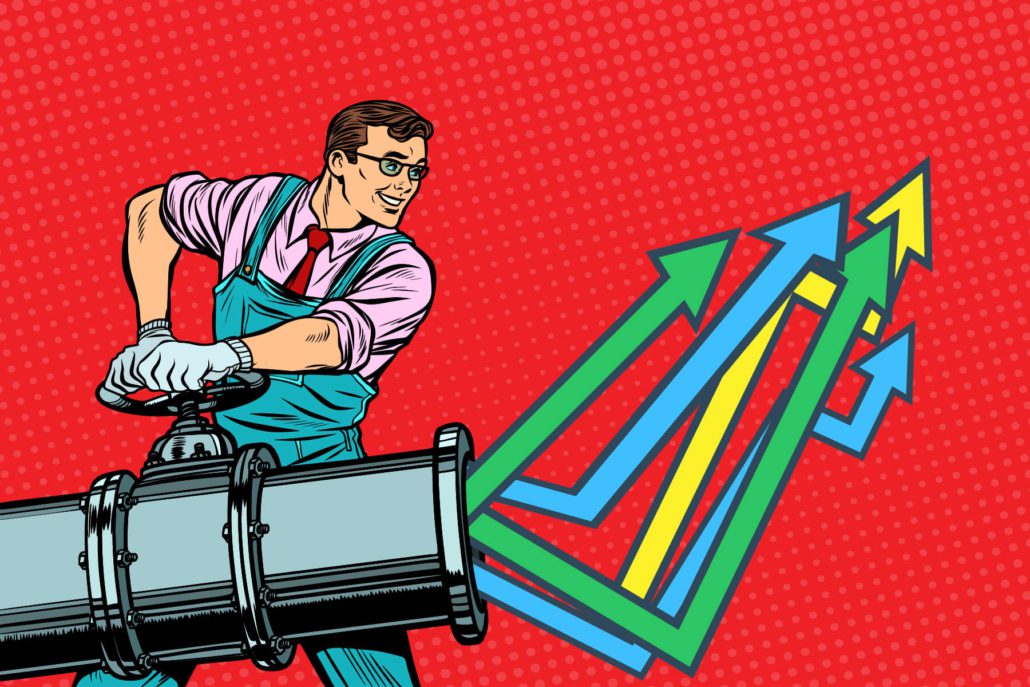 Personal contacts and relationships no longer guarantee increased sales. Pure push strategies are becoming less important, especially on the internet, which makes marketing more important than ever.
Over the past few decades, customers have become much more professional and better informed. They are now proficient in product search and supplier selection. Competition is everywhere.
Current market conditions make lead scoring and pipeline management extremely relevant for B2B sales. In the context of a successful business sale, a healthy sales pipeline becomes even more important. Building a high-performing sales function and a healthy sales pipeline signals potential buyers that past performance can be sustained into the future.
Your Business' Future Potential
Key figures such as earnings and cash flow into account relate company valuations to the present. On the other hand, a company valuation can take a completely different direction. How will the company develop in the future? Is it possible for the company will still grow or is the market saturated? A healthy sales pipeline comes into the play here to determine the answers to many such questions.
You need a formal pipeline management process.
There are two valuable resources in B2B: your key account managers' time and customer acquisition costs. To get the best of both, your sales team must have a formal pipeline management process and sales activities that cover the new business acquisition.
A strong sales pipeline is an indicator of future sales success and revenue growth after the business is purchased. This can give your business an edge when buyers consider buying your business.
Let's discuss the advantages of a healthy sales pipeline that can ultimately result in an increased business value.
1. Visualize your company's sales process
Visualizing your sales process in a pipeline helps organize and manage active, ongoing sales. Many CRM software providers offer free test access, so you can try out the software to determine if it will work for your business. To introduce CRM software, focus not only on the requirements to serve your company but also on ease of use.
Visualizing a historical sales pipeline helps buyers see what is needed to achieve expected sales outcomes in the future (based on historical sales win rate).
2. Save time through automation
A good CRM must automate repetitive activities. Automation gives you the advantage of devoting your precious time to qualifying hot leads.
With user-defined events, you can automate inquiries from potential leads that arrive via the company's website. Automation responds to such inquiries with a welcome message, contact information, and further steps to proceed with a transaction. Everything can be done automatically with a customized email template.
Automation can save your potential buyer a lot of time, too, which they can use to improve lead generation and qualification strategies.
3. Keep up to date
A robust, organized sales pipeline trains your customer communication for speed. With a good CRM, you can link email messaging with your active sales processes to stay informed of each current prospect's current status anywhere and anytime.
Value Scout recommends using a CRM that can plan calls from your computer and send them to your smartphone. Perhaps the CRM of your choice also has the option of uploading documents, such as offers, service descriptions, or invoices, which can be formatted in email templates.
Developing automated sales processes also shows buyers that the business can continue to grow with or without the founder, thereby increasing the business' value.
4. Customize the customer database
Nothing is as important to you as your contacts: they are the heart of your company. That's why you mustn't cut corners in this area. Even if you resist automation, you shouldn't skimp on your own customer database!
Many CRM tools already offer a contact database free of charge. But if you need more than just a phone number and email address from your prospects, then you need data fields you can adapt and/or create to suit your company and its requirements. When this is integrated into the sales pipeline, your buyer will be blessed with data that can be useful in running the business without you.
5. Track goals and improve performance
One more advantage of a healthy sales pipeline is the ability of you or the potential buyer to analyze its performance and draw clever insights, so that you can invest in tailor-made activities such as training courses, seminars, etc. that improve the company's performance. Well-known CRM tools enable you to create reports and present them in simple, easily understood formats.
Company Valuations Are Complex
It would be nice if determining a company's value were as simple as taking a pen, paper, and calculator to hand. In practice, however, the valuation of companies is complex. Companies that have been established their brands in the market for years provide reams of important information that benefits from a good advisory team to guide you throughout the process. Let us assist you with the experience we have gained over the years. Contact Quantive's team of valuation experts to see how we can help.