Moving Your Accounting Offsite ASAP- and Fractionalizing It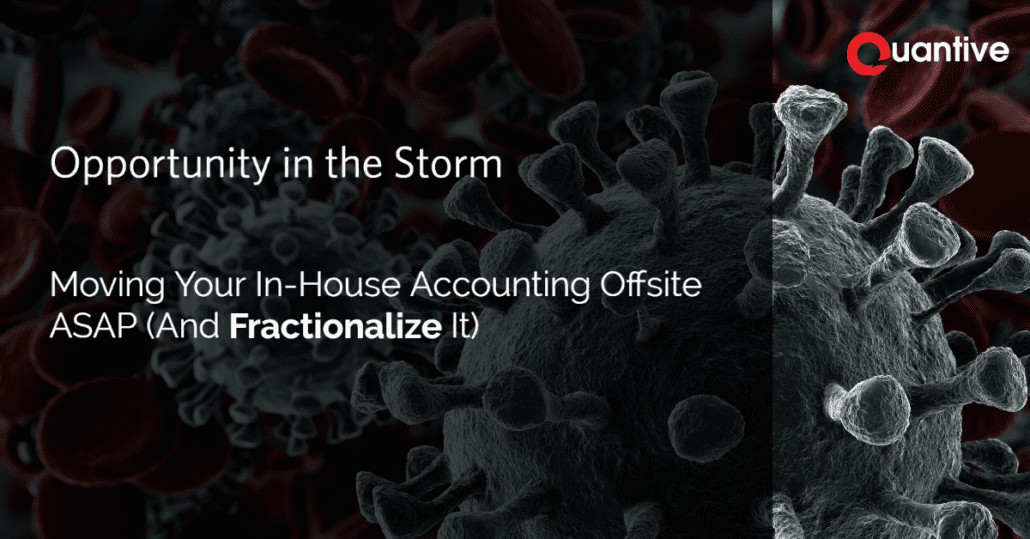 Sixty-two percent.
That's how many businesses lacked an emergency plan as of September 2019, according to Ready.gov.
Now, just a few months later, we know the real cost of unpreparedness. As the world wages war against the COVID-19 (coronavirus) pandemic, untold numbers of firms have been forced to make previously unthinkable decisions. Some have had to drastically reduce their workforces; others have had no choice but to close shop.
If your business has survived the initial shock of COVID-19, you're now almost certainly operating differently, on a semi- or fully remote basis. Like most of us, you're running your company from home—managing a virtual workforce and communicating with customers entirely online. Maybe you've had to lay off a significant portion of your staff.
Whatever your business currently looks like, there's one function you can't afford to neglect right now: accounting. If you haven't already, you need to bring your books into the virtual space as soon as possible. Any gaps in financial oversight and reporting will compound the impact of this crisis.
Fortunately, going virtual and switching to remote accounting doesn't have to be complex, expensive, or painful. You probably didn't prepare for this—but that's okay. Here's how to move your accounting offsite quickly and cost-effectively.
Communicate with Your Team
The first step in implementing virtual accounting is to develop a strategy. You can't simply click a button and bring everything online. You'll need to map out your existing systems and processes, evaluate your options, and consider any risks and uncertainties in going remote. In other words, you'll need to determine what you know and what you don't know.
Unless you're a sole proprietor, there's no reason to do this alone. Schedule a conference call or video meeting with your key financial employees, stakeholders, and advisors. Depending on the composition of your business, that could range from one or two individuals to a large team composed of your CFO, treasurer, controller, staff accountants, external financial consultants, and others. In any case, meet as soon as you can to gather everyone's input and outline your plan together, then assign roles and coordinate priorities.
Ensure every member of your team has the information they need. Bearing in mind the reality of the COVID-19 situation, it's important to think both short-term and long-term, and to strike a balance between security, collaboration, and business continuity. For instance, you may need to house sensitive financial documents in a password-protected Dropbox folder, or appoint two or more people as administrators. Commit to transparency. Share your concerns with your team and encourage others to do the same. Now is the time for working together and taking all ideas into consideration.
Create a Checklist
Once you've assembled your team and developed an overall framework for moving accounting offsite, the next phase is to break your strategy into actionable steps. Think about what needs to be done and in what order: downloading software, digitizing documents, training employees, communicating the changes to customers/clients and vendors, and so on.
Take stock of the daily, weekly, and monthly tasks your bookkeeping and accounting departments handle: accounts payable, accounts receivable, preparing statements, reconciliation, revenue analysis, forecasting, budgeting, etc. If you have any workflow documentation, that will come in handy.
You'll need to consider the full accounting cycle:
transactions
journal entries
posting to the general ledger
trial balance
worksheet
adjusting entries
financial statements
closing
Next, determine both the importance and the relative difficulty of virtualizing each task. The goal is to get the basic things done first. Think about which tasks are most critical to your business—if any can be done remotely (or are already done remotely) with minimal effort, put those at the top of the list, followed by the equally essential but more difficult tasks, the easier and less important tasks, and finally the least important and most resource-intensive tasks.
Retrieve Any Necessary Physical Documents from Your Office
This is perhaps the least enjoyable part of this process. If you don't have digital copies of all your financial documents, you or a member of your accounting team will need to travel to your place of business and bring them home. Do so quickly, keeping your paperwork secure in transit and at its final destination—and make sure to wash your hands as soon as you get back.
Use Technology—But Be Smart About It
If there's an upside to the coronavirus pandemic, it's that it happened in 2020, when remote working is easier, cheaper, and more accessible than ever. There are numerous software platforms and services out there to help your business navigate this crisis.
You don't need to use every technology solution—nor should you. Multiple subscriptions and integrations can become costly and overly complex, leading to confusion, errors, and poor adoption by your workforce.
Think carefully about your needs and stick to one or two large providers (e.g. Google, Microsoft) wherever possible, so you can keep most of your work in a shared ecosystem. Take some time to research different products, read reviews, and try out demos. Then, when you've settled on which tools you'd like to use, introduce them steadily and deliberately to your workforce; don't overwhelm your team with multiple new processes at once.
Ask Us for Help
Again, you don't need to do this all alone. Whether you've reduced your internal accounting team or need additional support for any reason during the coronavirus situation, there's never been a better time to outsource your business's accounting. 
We're here to help. Quantive's team of financial professionals is ready to take care of your immediate accounting needs, from bookkeeping to AR and AP management. We can also provide executive-level support through our consulting services. It's all available remote and on-demand.