We partner with best-in-class financial planners with deep experience working with small business owners.
EXIT LAUNCHPAD
We value companies. You plan for the bigger picture. Enter Quantive's Exit LaunchPad™ platform, marrying our valuation services with your financial planning.
Why LaunchPad?
Stop us when you've heard this: a business owner is considering an exit scenario and has questions about their future… but has significant unsurety about their business value and if "it's enough."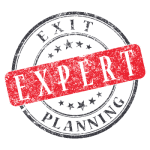 From our perspective valuation work is often tactical, with the valuators involvement ending the moment a valuation ships. This leaves a business owner with an incomplete understanding if their prospects.Exit LaunchPad™ is designed to give the business owner a full 360 degree view of their financial world so they can make decisions with full knowledge.
Let's expound upon that concept for a moment. What you have worked so hard to create is a business and within that business you have probably given yourself a job and even pay yourself a salary from the business. However, when factoring the value of your business for a sale you need to remove the you from the equation, literally. The buyer may not want to be an active employee of the company or may be buying it to merge with existing companies where the position you currently hold down is, unbelievably, fulfilled by someone else.
How it Works
Quantive is expert at business valuation.  But to complete the equation, Quantive partner's with the best financial planners and wealth managers to help our clients complete the rest of the financial plan.Once we have completed the business valuation we are able to arm the planner with more complete data regarding the client's estate.  The value of a business- often 80% or more of the total estate – is no longer an unknown.
We look for partners that are credentialed and deeply entrenched in working with entrepreneurial clients.
Sell the business then all you really have is a job and you can't sell a job. Removing you brings up a number of terms: goodwill, personal salary, personal expenses. We will touch on these later. So are you ready to jump in and be truly candid with the numbers? Keep in mind, this result is not what the business is worth to you, because presumably you won't be your own buyer/investor/lender, but this result will answer What is My Business Worth in the market, to others.
Issuing options or equity compensation? Quantive performs appraisals for 409(a) reporting requirements.
Thinking about retirement? Planning for a sale? A business valuation typically is the starting point of any sound exit planning process.
We provide litigation support for shareholder disputes, lost profits, shareholder oppression, commercial litigation, and various other reasons.
Quantive provides a business valuation in support of buy-sell agreements, to include buy-ins and buy-outs, as well as shareholder disputes.
We perform company valuations in support of various gifting strategies, as well as in support of probate requirements.
A core part of our practice is preparing business appraisals for SBA loans, as required by the SBA SOP.
Your company is probably your largest asset. A business valuation for selling a company just makes good sense.
Smart entrepreneurs routinely retain Quantive to understand price early and gain a roadmap for impending price negotiations.
About Us
Quantive is a veteran owned and operated financial services firm. We work exclusively on matters related to corporate value: business valuation, value growth, and M&A advisory.
Contact
Quantive
Phone: 888-827-1624
Washington, DC | New York